Why Join the Savasaurus Club?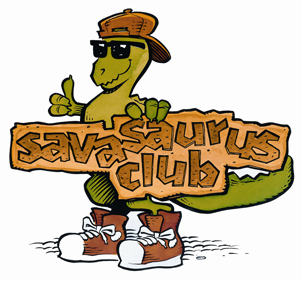 The Savasaurus Club is an educational and rewarding way for children 12 and under to learn about money and saving. Our Savasaurus account earns higher interest rates than the traditional savings accounts and club members can earn dividends on deposits of $25.00 and higher. As a club member, children can choose prizes from the Savasaurus Treasure Chest at select branches every time they make a deposit. In addition, club members get a birthday card every year and a chance to grab a "fist-full of money" on their birthday. The money can be deposited into their savings account as a gift from the credit union.
Members can also earn one Savasaurus Point for every deposit of $5.00 and redeem earned points for Savasaurus prizes. (Payroll deduction deposits, electronic transfers, direct deposits and account-to-account transfers are not eligible to earn points. Checks for deposit must be made payable to the child (account owner) and NOT to the parent or guardian (joint owners) in order to receive points.)
How Do You Redeem Points?
As club members keep track of their points they receive for each deposit, they can visit their nearest MembersFirst branch to redeem them for prizes. The credit union does not keep track of the points and will rely solely on the members stamped receipts for point
redemption.
100 Points

Movie Pass

80

 Points

Bag

60 Points

T-Shirt

50 Points

U

mbrella

4

0 Points

Lunch Bag

20 Points

Water Bottle/Frisbee
What Do Children Receive When They Join the Savasaurus Club?
A Savasaurus membership kit

Piggy bank
* Members may not withdraw funds below the $5.00 minimum balance.