No matter the season, it's always the perfect time to save money and find ways to have fun without breaking the bank (or credit union). Here are nine hobbies that don't cost a lot of money and just might add a little value to your day.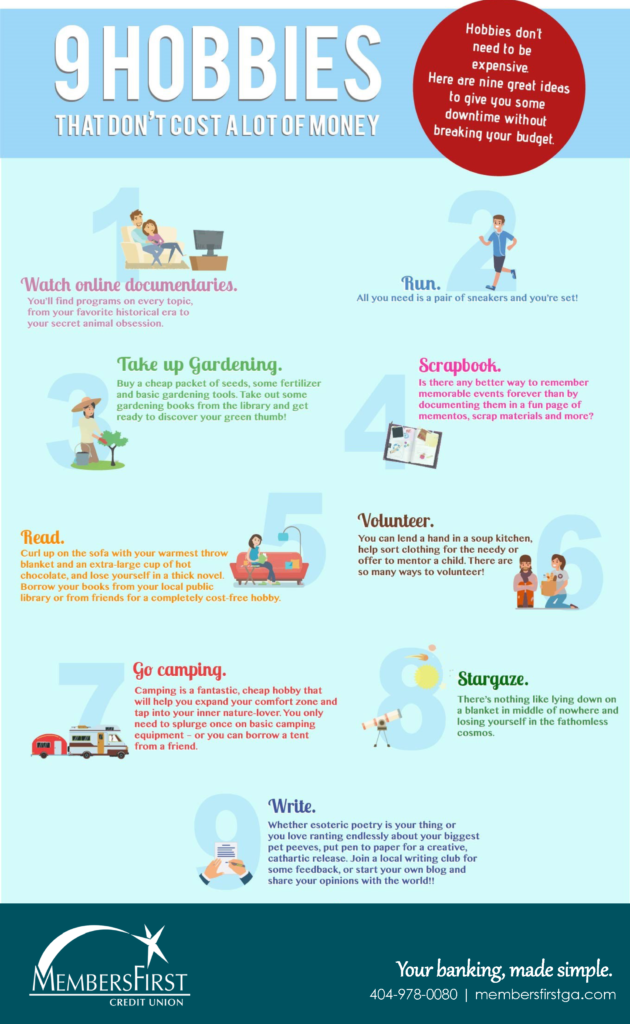 Hobbies don't need to be expensive. Here are nine great ideas to give you some downtime without breaking your budget.
1. Watch online documentaries. You'll find programs on every topic, from your favorite historical era to your secret animal obsession.
2. Run. All you need is a pair of sneakers and you're set!
3. Take up gardening. Buy a cheap packet of seeds, some fertilizer and basic gardening tools. Take out some gardening books from the library and get ready to discover your green thumb!
4. Scrapbook. Is there any better way to remember memorable events forever than by documenting them in a fun page of mementos, scrap materials and more?
5. Read. Curl up on the sofa with your warmest throw blanket and an extra-large cup of hot chocolate, and lose yourself in a thick novel. Borrow your books from your local public library or from friends for a completely cost-free hobby.
6. Volunteer. You can lend a hand in a soup kitchen, help sort clothing for the needy or offer to mentor a child. There are so many ways to volunteer!
7. Go camping. Camping is a fantastic, cheap hobby that will help you expand your comfort zone and tap into your inner nature-lover. You only need to splurge once on basic camping equipment – or you can borrow a tent from a friend.
8. Stargaze. This one might not seem like a 'hobby'; however, there's nothing like lying down on a blanket in middle of nowhere and losing yourself in the fathomless cosmos.  Make it even more fun by sharing this time as a family or with friends.
9. Write. Whether esoteric poetry is your thing or you love ranting endlessly about your biggest pet peeves, put pen to paper for a creative, cathartic release. Join a local writing club for some feedback, or start your own blog and share your opinions with the world!!
Tell us…what are some of your favorite, low-cost hobbies? Share with us below!