Would it surprise you to know some view retirement as a positive event involving leisure, freedom, travel and such delights while others view retirement with fear and trepidation, seeing it as a negative event representing loss, declining health, and, in some cases, obsolescence? There's no doubt that one's view of retirement has quite a bit to do with their feelings of readiness, preparation, health and life events but what if you could prepare in such a way that you minimize the unknowns and expand the possibilities?  
While there is no way to definitively know what your retirement will look like, there are steps you can take now to be in the best shape possible. Prepare now, regardless of where you are in your work life.
We've highlighted a few items to help you think through your retirement planning.
Do a Little Figuring – Get a high-level view of your retirement with numerical guides such as the 40x rule. This rule suggests you should multiply your annual budget by 40 to determine how much you will need to retire comfortably. Or try the 80% rule, which suggests your spending will decline by approximately one fifth in retirement compared to your final year of working. These numbers are not absolute, but they can guide you as you review your current budget, debt and savings.
Deal with Your Debt – For many, it makes sense to continue working until the car loan, student loans and credit cards are paid off. When your income is fixed, debt can quickly eat up a larger and larger portion of it.
Develop a Spending Strategy – Your spending in the first year of retirement may include additional travel, relocation, and healthcare costs as you consider new options such as insurance or downsizing. Get a good idea of what things you may need to spend money on.
Start Social Security at the Right Time – People who put off starting Social Security get larger monthly checks down the road. Delaying to age 70 can increase benefits by nearly 75%. Consider your circumstances and see if that's an option, if not, make the decision that is best for you.
Plan for Medical Expenses, Including Long-Term Care – The estimated cost of healthcare in retirement varies. The Bureau of Labor and Statistics says healthcare for those aged 65 and older cost more than $6,600 in 2020. Long-term care coverage can take some of the stress off care later in life. Look at the options out there and get an expert to help you.
Don't Forget Your Estate Planning – Be sure all your accounts have a designated beneficiary. Update your will and research charities if you want to give money away to something you care about. This sort of planning relieves the burden on your loved ones and keeps your money within the family and not tax collectors.
Now that the wheels are turning, what's your view on retirement? Take some time to consider the checklist above and get some help.  The picture is different for everyone, but the idea is that you can enjoy your retirement and have the day-to-day necessities taken care of.  You've earned your retirement, plan and prepare for it like you would a vacation, so you can enjoy it.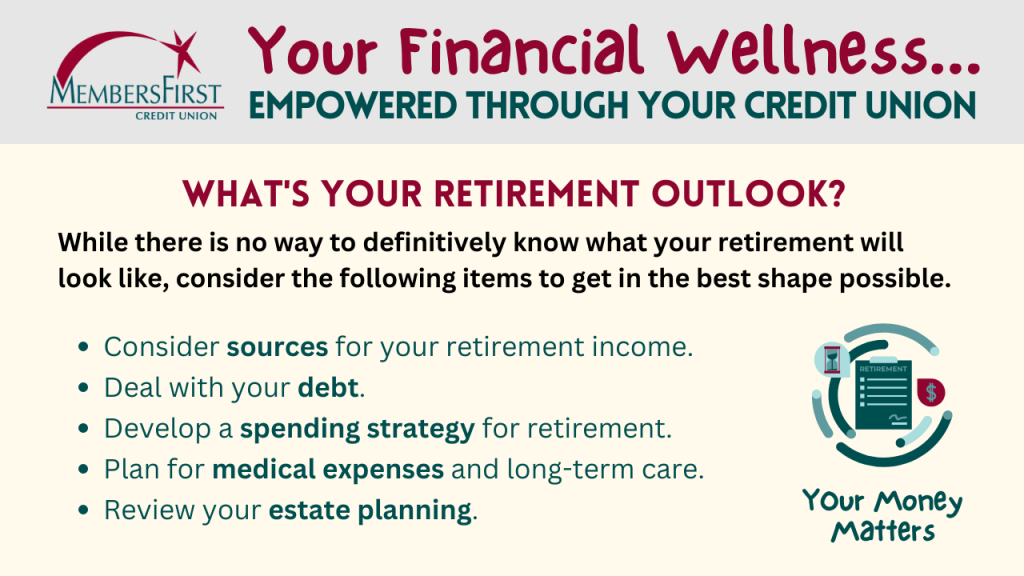 The complete checklist can be found at https://www.forbes.com/advisor/retirement/retirement-planning-checklist/.
Additional Resources
Review your sources of retirement income:
Social Security
Defined Benefit Plans – Pensions
Employer-Sponsored Plans
Stocks and Bonds
Reverse Mortgages
https://membersfirstga.com/resources/ – Schedule time with a Certified Credit Union Financial Counselor to help establish a current budget, debt repayment plan or to get an overview of where you are today.
https://www.SSA.GOV – Visit the Check the U.S. Social Security Administration (SSA) website for the full retirement age for all birth years and other benefit eligibility details as well as visit the SSA website and create your "my Social Security account".
https://www.finra.org/investors/learn-to-invest/types-investments/retirement/managing-retirement-income/sources-retirement-income